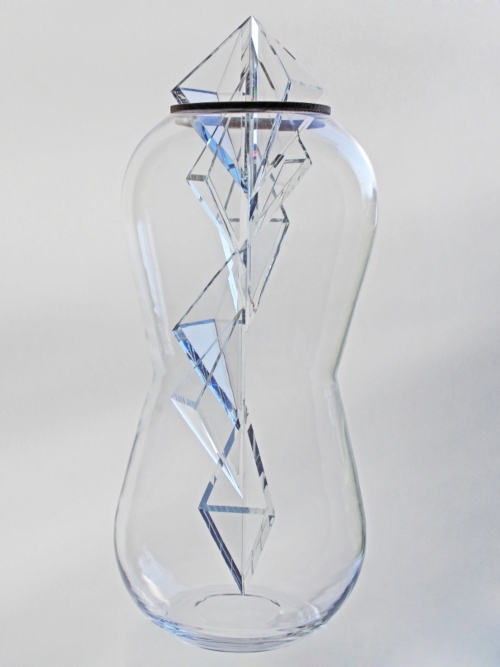 This is like story about how art has turned into design. At the beginning was free-thinking about crystallization and then the form of glass object and it had inspired me to create showcase for jewelry. I think that art have to be soul of design.
Like coin have two sides, so I have too. At one side are "brilliant" glass objects, light objects and designs, but at the other side are art installation. Mostly they are site-specific and working with light. Lately, I am most fascinated by daylight and how it sets in motion and changes shapes of spaces.
Subjects of my art installations are cylinders which served as an antenna at tower. Through projection and light I transmit from antennas art/abstract messages. The same cylinders I have used for many different installations.
Glass design is the field of my study. I work with different materials, but glass fascinates me with its variety. Variety of many approaches and techniques. My specialization is blown glass because I like the process, the dynamic, concentration in real-time. The border between solid and melted glass is really interesting.
So what am I doing? I design tableware and various extraordinary glass objects. But most of all I am attracted to working with light and glass is the material of light. That's why I design lighting, chandeliers, and lighting objects and installations.
European Glass Festival 2019
Vernissage within European Glass Festival in Wroclaw /PL/ will start 23.10. at 9 pm at TYC ART GLASS gallery and name of installation is IN-SIGHT.
ul. Ruska 46a/007 (dojście od św. Antoniego 23 – zamknięte)
Světlo Valmez 6.9.-7.9. 2019
Three light installations within light festival Světlo Valmez /Valašské Meziříčí, CZ/. In the picture is big light gate created in cooperation with my profesor Petr Stanický.